The Torque Extender reduces risk of damage and personal injury by safely and securely latching on to Allen wrenches, pliers, hand wrenches, crescent wrenches, torque wrenches, pipe wrenches and socket wrenches. The innovative protective coating comfortable, controlled grip, it will not crack or become brittle in extreme weather conditions.
New and improved design from the material to the Solvent Resistant
Coating protects against moisture, acids, abrasion, corrosion, and skidding/slipping.
Safety First

When faced with the frustration of removing a rusted, frozen or overly tightened nut, instead of hammering on a wrench, using a pipe on a wrench or hooking two wrenches together, latch on to the wrench with comfort and control by using The Torque Extender.

Achieving a zero-injury workplace starts with a zero-injury mindset - the belief that it's possible to prevent any type of injury when we focus on the goal together. We expect to work safely, and each of us can help create a safer workplace for ourselves and others. All of us are responsible for continually identifying and eliminating hazards that could cause an injury.


New and Improved
Made of Chrome Vanadium, with excellent properties such as strength, toughness, and resistance to wear and fatigue. From mining to processing, automotive, and aerospace this lightweight metal retains its resistance to things such as salt water, hydrochloric acid and sulfuric acid that cause erosion and oxidation.



---

Need more leverage, Need more Torque. Need more holding POWER?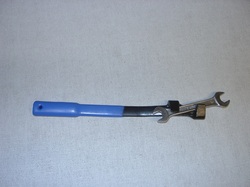 If you've ever resorted to linking wrenches together, or using a flimsy pipe to produce a little more torque to break loose those stubborn bolts and nuts then the Torque Extender is for you.
Improve safety and inefficiency, Reduce Personal injury by latching on to all types of tools,
We have the size for you from fitting small Allen wrenches, Pliers , Crescent wrenches to huge earth moving tools.
This tool will give you the power.
It is only your imagination that holds you back.
4 Sizes to choose from Click here:
---
Safely remove those frozen and hard to break free nuts and bolts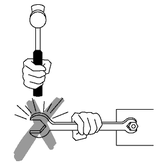 Never again be in a unsafe position and hard to reach places, safely remove or tighten anything that turns with ease and without strain to your back and arms.

Wrench Safety tool, NON-SPARKING, CORROSION RESISTANT, handles also provide better vibration control and increased grip for adverse environmental conditions, no need for a "cheater bar"which is unsafe. Designed to keep leverage and intended load in safe balance.
·

Limited Lifetime Warranty
Rizz Enterprises Safety Tools are backed by a lifetime warranty. If an Torque Extender tool breaks or fails to perform under normal use or service, it will be repaired or replaced at no charge. EXCEPTIONS ARE DEFECTS RESULTING FROM MIS-USE / ABUSE OR NORMAL SERVICE WEAR.

---