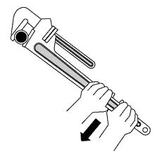 Rizz Enterprises, the leader in specialty automotive parts and services, Rizz enterprises the only distributor of the wrench extender / torque extender. Torque extender manufactured using Chrome Vanadium, with excellent properties such as strength, toughness, and resistance to wear and fatigue.New and improved design from the material to the Solvent Resistant
Coating protects against moisture, acids, abrasion, corrosion, and skidding/slipping.
contact Rizz enterprises for best pricing.


Wrench
extender was the older tool that had manufacturing issues and was discontinued by the manufacture, Rizz Enterprises now carries the improved unbreakable Torque Extender.
Rizz enterprises the leading online dealer in TPMS Sensors, purchase with Rizz Enterprises for the highest quality and best prices. Rizz Enterprises can supply you one or one hundred because we are the leader in TPMS Sensors.
Rizz Enterprises has TPMS programming tools, for the garage or dealer, our programming tool is top of the line in TPMS programming.
contact Rizz Enterprises for your TPMS Sensors and TPMS programming tool, see our instruction video, we are the leading distributor of TPMS sensors and service,
Our TPMS Sensors out last any of the competitors clams, our batteries are fresh, our software is current and up to date.
we are the largest distributor of TPMS sensors
Contact Rizz today for pricing and delivery time.
performance parts with Same Day Shipping
.
Uni-Sensor tire pressure monitoring system, or TPMS, is an electronic system designed to monitor the air pressure inside the tires of various types of vehicles. TPMS provides a wide range of driver benefits including: Improved vehicle handling and road traction, Decreased rate of tire tread, Improved gas mileage by up to 3.3%; Safety should never be compromised. This is why Uni-Sensor the only OEM replacement equipment manufactured TPMS sensors and accessories. This means that all of our parts meet or surpass industry standards in both function and build quality.
Is your tire pressure warning light on? Do you have malfunctioning sensor? Need help with reset and relearn procedures? Our TPMS experts will help you get back on the road in no time</span>. Spare yourself the dreaded TPMS headache by creating an account at Rizz Enterprise, Rizz Enterprise is an official member of the Tire Industry Association.
Do you own a tire business? Learn how to make money
We can help you to grow your business as the TPMS market expands in the coming years. Pricing structures are dependent on TPMS purchase frequency and purchase quantity. If you're interested in cooperating
with Rizz Enterprise please email us at with a copy of your resale license and business card. You can also give us a call at (818) 675-6115 M-F 9 am-5 pm Wholesalers! To get started, please click here "
Uni-sensor
Do You Need TPMS Sensors? in the United States are required to come equipped with a Tire Pressure Monitoring System. A majority of the vehicles come with a battery powered sensors attached to the wheel on the opposite side of the valve stem. Now that the law has been in effect for five years

Rizz Enterprises, carries top of the line safety seal products, contact Rizz for dealer discounts, Rizz enterprises is also one of the largest distributors of safety seal in the southern California area

Tire, tire, safety, Safety, automobile, tire repair, tire industry, tire sealant, Tire Sealant, nslc, safety seal, Tire Repair, Tire Industry, Safety Seal, Off Road, Off-Road, Off-Road, 4x4, wheel, truck, Wheel, Truck, off road,


Rizz Enterprises the leader in tools and auto parts.
TPMS, tire pressure monitoring system, tire pressure sensors, Uni-sensor, original equipment manufacturer, oe, oem tpms, TPMS Direct, direct tpms, beru, huf, borgwarner, siemens vdo, schrader bridgeport, lear, TRW, pacific, continental, Acura Alfa Romeo Aston Martin Audi Bentley BMW Bugatti Buick Cadillac Chevrolet Chrysler Dodge Ferrari Fiat Ford GMC Honda Hummer Hyundai Infiniti Isuzu Jaguar Jeep KIA Lamborghini Land Rover Lexus Lincoln Lotus Maserati Maybach Mazda Mercedes-Benz Mercury Mini Mitsubishi Nissan Pontiac Porsche Rolls Royce Saab Saturn Scion Smart Subaru Suzuki Toyota Volkswagen Volvo, tire light, tire sensors, tpms accessories, valve, adapter, strap kit, retro-fit tpms, bus, truck, trailer, motorcycle, tire light, tpms sensor, aftermarket tpms, tpms light, tire pressure monitor tool, aftermarket tire pressure monitor, schrader tire pressure monitoring system, reset tire pressure monitoring system, tire pressure monitor reset tool, aftermarket tire pressure monitoring system, wireless tire pressure monitor, service tire pressure monitoring system, tire pressure monitor caps, low tire pressure sensor, electronic tire pressure gauge," Uni-sensor.
Tire Pressure Monitoring System (TPMS) Sensors for Your Car,TPMS sensors for vehicles at great prices and offers the option of pre-installing sensors if you purchase a wheel and tire package. And since, TPMS sensors have a battery in them, they'll need to be changed on average every five to seven years. Do your TPMS sensors need to be replaced? Uni-sensor Sensors available.Schrader Sensors, Beru Sensors, Lear Sensors, Pacific Sensors, Siemens Sensors, TRW Sensors Tire Pressure Sensors for Automobiles, Asian, US & European Makes & Models. TPMS Sensors.
A Tire Pressure Sensor can be of the direct or indirect type according to the NHTSA legislation. In practice nearly all OE's have opted to install Direct TPMS in their new builds. A Direct TPMS is a physical pressure and temperature transducer which is usually either valve stem mounted or banded to the wheel and transmits real time tire pressure information to the driver of the vehicle either via a dashboard display or a tire pressure warning light on the instrument cluster. The Uni-sensor sensors are manufactured by international companies such as Schrader, Siemens, TRW, Pacific, Lear, Beru and others.The ITM Sensor Aid TPMS Programming and Diagnostic Tool allows the user to wirelessly program, trigger, and diagnose OEM (original equipment manufacturer) and aftermarket tire pressure monitoring sensors.
Uni-sensor tpms tire pressure monitor system sensor replace fix reset relearn rebuilt online original equipment oe new universal stem cap what is chevy ford acura audi bmw buick cadillac chevrolet chrysler dodgs ram ford honda nissan
automotive/replacement_parts/tpms/redi_sensor_tpms/redi_sensor_tpms
Tire, tire, safety, Safety, automobile, tire repair, tire industry, tire sealant, Tire Sealant, nslc, safety seal, Tire Repair, Tire Industry, Safety Seal, Off Road, OffRoad, Off-Road, 4x4, wheel, truck, Wheel, Truck, off road, off-road, offroad.
百度快照
添加到搜藏
投诉快照